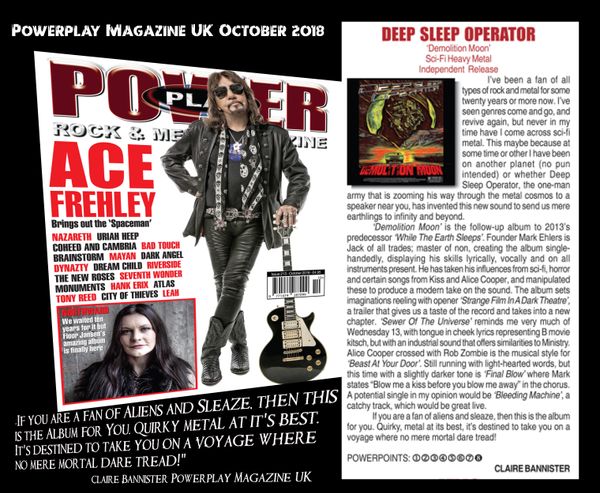 http://www.horrormetalsounds.com/lunatics-serenade-deep-sleep-operator-interview.htmlWaking from a Deep Sleep:

An interview with Mark Ehlers
You have to hand it to Wisconsin based musician Mark Ehlers for sticking to his guns, taking on a DIY one man band called Deep Sleep Operator. The thing about this project is how the music is culled together from bits and parts of different genres and fantastical elements. All coming together in a swirl of sci-fi concepts and bizarre live imagery, creating the mystique of DSO.
To be honest, I had not heard about DSO until Mark contacted HMS recently to review his debut disc "While the Earth Sleeps". I'm glad he did though because upon giving this an initial spin I was quickly taken aback - there's so much going on here when you consider the dense histrionics surrounding the songs and the alluring guitar riffs, effectively creating an apocalyptic soundtrack.

If the world was to truly come to an end today, I would expect to see Mark at the helm leading the charge of chaotic sounds. This is what DSO is all about and I was lucky enough to sit down and have a chat with the man.
HMS: Let's begin with the band's origins. DSO is essentially a one man DIY project, so can you tell me how this all came about?

Mark Ehlers: It really has been years in the making for sure. Just constantly writing and recording, improving and trying to learn how to basically be a good songwriter, singer, guitarist and recording engineer. Technology caught up finally, and I was able to create the audio lunacy that had been kicking around in my head.

HMS: You've stated in your bio that if Steven Spielberg had nightmares, then the end result would be DSO. Are you a big fan of Spielberg's work, or Sci-fi in general?

Mark Ehlers: For sure, I'm a fan of his. Anyone who can make a film about a shark, which in turn, causes people literally to be terrified of going in a swimming pool afterwards deserves respect. Close Encounters too had a big impact on me as a kid as well - those 5 notes coming out of the mothership towards the end was beyond epic. I got to say, I thought his more recent film Super 8 was solid too and one of my favorite aliens.

HMS: I know you are based in Wisconsin, so what is the music scene like? Is the scene accepting of DSO?

Mark Ehlers: Being around smaller cities, I'm not sure there is what I'd call a scene, but there is a love of hard rock/metal music for sure. It's funny because it never goes away, it just kind of goes underground. There are some great venues that have supported DSO in Wisconsin as well as some FM radio stations in Madison and Green Bay that have played us. Maybe there is a scene? Deep Sleep Operator is such a new entity it's hard to gauge how we fit in or don't fit in you know? Ask me again in 5 years.

HMS: Can you talk about the live aspects of the show? In particular your stage costume and presence?

Mark Ehlers: The Live show really is a natural extension of what you hear on the album. It has to be over the top, visual and entertaining. I've told people I don't want to stand on stage playing "Feed them Dirt" while shoe gazing, unless my shoes are on fire. I think there is a freedom for me to become this alter ego and go up onstage and play my heart out for sure. It's been said the true identity of a man only comes out when he wears a mask and I have to agree. People wear masks every day of their lives and they don't even know it.
"People wear masks every day of their lives and they don't even know it."
HMS: In the review I wrote for the album, I mentioned some comparisons to Alice Cooper and Dave Mustaine, so tell me how you feel about being compared to these musical legends?

Mark Ehlers: It really is the ultimate compliment! Kind of surreal for sure. I am a huge Alice fan and Megadeth too. Those guys have done it all, and are still doing it in this business is no easy task! Alice is so known for his stage theatrics, but to me his songs were his strong point, so unique and underrated! "Billion Dollar Babies" is one of the coolest songs of all time and "Cold Ethyl", man I could go on and on. I recently saw Megadeth perform a few months back and they were lethal. Chris Broderick is amazing and the show left me feeling very inspired!

HMS: The response for DSO has been overwhelmingly positive, so how do you plan upon building for the future of the band?

Mark Ehlers: A lot of things are in the works that will hopefully take Deep Sleep Operator to the next level. Hopefully bigger shows and touring opportunities will solidify. This band really belongs on the road and it's no secret that for rock bands, that's what has to happen. So we'll see if the planets align and so far so good.

HMS: HMS is a website that brings the best of metal and horror to the masses, so do you have a favorite horror movie?

Mark Ehlers: Some people might not know this film, but my favorite horror movie is "The Car" - I think it came out in 1977. This creepy looking black car terrorizes people in a small Texas town. Turns out it's the devil driving it, mowing people down left and right. Good stuff!

HMS: What inspires you musically?

Mark Ehlers: I think it's life really that inspires. The "every day" gets put into a mental blender. Every song, every film, every painting I see on the wall, every star I see as I look up into the sky at night, everything gets recorded and I think it comes back out through song. Good things and bad things equally inspire me whether I want them too or not. Such is life I guess.

HMS: This is a bit of cheesy question to end things off, but if we really had an alien invasion what would you do?

Mark Ehlers: It's not cheesy at all! People should think about this. The problem is, how do you prepare for the unknown? There's nothing worse than a bump in the night that you have no idea who, or what caused it. All you do know is the hair on the back of your neck is standing straight up. The funny thing is, I don't fear an invasion because they're already here among us, and they've been here long before we were even here. For humanity to think the Earth is ours alone is a little narcissistic and self centered don't you think?

You can listen to Deep Sleep Operator's CD here. Read more about Deep Sleep Operator on their website. 

Kenneth Gallant, Editor HMS

Lunatic's Serenade Menu
Press reviews  
 From Progressiverockbr.com in Brazil-
Taking the listener by assault, Deep Sleep Operator attacks with fierce, explosive, and devouring Metal power, armed with dynamic and creative guitar riffing, unstoppable and inexhaustible guitar soloing, thundering deep-bass lines, and heavy artillery on drums - all under the leadership of Ehlers' insane throating vocals that spit-off bizarre lyrics with themes that cover from alien invasions to black magic. 
From Horrormetalsounds.com- in Toronto Canada
Deep Sleep Operator is a unique entity, blending sci-fi and hard rock together and is done solely DIY from Wisconsin musician Mark Ehlers. The passionate musician has done everything on this debut disc, from writing and mixing all the music and handling every instrument. That's an impressive feat, but DSO strives to create a palette of sounds/moods to tell a great story within the music itself.

The CD is entitled While the Earth Sleeps, and maybe that's an appropriate title – especially given how the opening track assaults the listener with sounds of an alien invasion. The track is called "Breaking the Earth" and it sets the tone right away, prompting the listener to brace for the tumultuous ride ahead. The next few tracks pile on the heavy riffs, so "Feed Them Dirt" and "Spiritual Warfare" should indulge and engage the listener mercilessly.
From Planetmosh.com in the UK
It's hard to pick a single track for praise – the whole album is so good with no weak tracks.  I definitely recommend giving this album a listen, and I'm certainly hoping it won't be too long till they release a second album. 
Live concert review from Onstagereview.com in USA
A loud, angry-sounding lead guitar howled and screamed at us as we entered the place (our favorite way to walk into a room). We found out later that it wasn't a guitar solo planned specially for our entrance; it was just really good timing combined with an extraordinary opening band, Deep Sleep Operator. The singer, Mark Ehlers, had an eerie Dave Mustaine-like growl in his voice and wore a mask and straightjacket which only added to the already daunting music.
From Dangerdog.com in the USA
Generally, however, Ehlers is pretty good songwriting and rather deft musician. His guitar work is particularly engaging, possibly the best part of While the Earth Sleeps. Despite his vocal style, or because of it maybe, the music is definitely intriguing. After one song, you want to hear the next; you want to find out where Ehlers is going with all this sound. He also creates some curiosity with his song titles They've Entered My Mind, Tempo of a Frozen Heart, and Don't Take a Knife to a Gunfight, by example. Alternatively, sometimes, at least lyrically speaking, the album's theme isn't all that cohesive. Nevertheless, if While the Earth Sleeps is the intended result of his original vision for the album, then Ehlers' Deep Sleep Operator is certainly a fine achievement, and a rather interesting and entertaining one at that. Recommended.
"From Globalonslaught.com in Australia
While The Earth Sleeps" is a portal to a diverse state of mind the opener "Breaking The Earth" sets the tone for the albums lunacy. Staring with an eerie whistling entrance filled with screams and hysteria. Ehlers snarls give way to demonic fiends being unleashed, raising havoc onto a city with bizarre sludge madness. While the hasty guitar riffs add the element of insanity. "Feed Them Dirt" can only be describe as musical genius being bulldozed by an array of heavy intricate instruments. "Spiritual Warfare" this song flows like liquid gold off Ehlers tongue. The heavy doom in the guitar grips the listener taking you on an endless journey of severe riffs mixed and crashing drums.

DEATH VALLEY HIGH W/ DEEP SLEEP OPERATOR
Gabe's — Sunday, March 30 at 9 p.m. (Free)
One band believes the Zombie Apocalypse has already begun. The other claims to be non-human from an alien planet. A little extreme, I know. But then again, hard rock has always been an outlet for the obscure.
These two twisted bands are Death Valley High and Deep Sleep Operator, and they'll be bringing their peculiar brands of rock to Gabe's Sunday night. But, despite their unusual subject matter, these bands actually have a likable sound.
Deep Sleep Operator is a one man band created by science-fiction fanatic Mark Ehlers, who says his music is what Steven Spielberg's nightmares sound like. Appropriately enough, his 2012 debut, While The Earth Sleeps, is a concept album about aliens taking over Earth.
Ehlers assaults listeners with aggression and sinister Alice Cooper-like snarls, convincing us he's part of the alien invasion. But with tracks like "Spiritual Warfare," and its climactic guitar solo finale, we're okay with it.
The show is free, so don't hesitate to stop by if you are intrigued by themes of death, the supernatural and the extraterrestrial — or if you want to see one of the weirdest rock shows ever. The alien invasion kicks off at 9 p.m., and will be followed by the Zombie Apocalypse until about 11 p.m.